Fifteen years ago, Camp Broadway launched StageNotes as a series of study guides to connect Broadway to the classroom. Over the years, the StageNotes.net site featured these study guides as well as many of the special educational projects created through our partnerships with Broadway productions and others. Today, StageNotes.net is poised to emerge as a leading resource for educators, families, producers, presenters, and others looking for information on the intersection of theatre and education.
We are pleased to feature study guides for many Broadway and touring productions as well as an extensive library of guides for use by regional theatres, schools, and parents. This library will continue to grow as evidence of Broadway's commitment to providing information to make productions relevant to students and connected to what they are learning in the classroom.
Study guides are an important part of what we do, but we are also building a collection of lesson plans, articles, and other resources on theatre education and arts integration techniques including STEAM (science, technology, engineering, arts, and math).
StageNotes.net is also a terrific resource for teachers and others looking to produce a show with students. Our connections to licensing companies and industry service providers put a wide array of information at your fingertips.
This journey is just beginning and we invite you to come along. Our collection of resources is expanding and ever-changing. Be a part of the growing conversation about the value of theatre in education. Join the StageNotes community and receive periodic updates, first notice of new features, and special offers from our partners.
On with the show…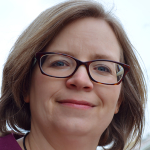 Amy Heathcott
Editor